Rates and Amenities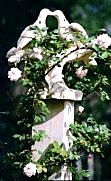 All of our cottages have
full private baths,
full kitchens,
nice porches or decks overlooking steep ravines or peaceful pond, cable TV, wireless internet, barbeque grills,
queen or king-sized four-poster beds,
heat/air and ceiling fans.
All cottages have double jacuzzis
and five of the cottages have working fireplaces.
Five of our cottages have two bedrooms and two bathrooms.


OVERNIGHT RATES
$150 for 1 or 2 guests in one bedroom,
$250 for up to 4 guests in two bedrooms and two baths.
$10 extra person charge.
Two-bedroom cottages can rent as one-bedroom if only one bedroom is used.
Rates include continental breakfast in the privacy of your own cottage.
13% overnight tax.
10% travel agent commission (this is not something the guest pays,
it is simply a commission we pay to travel professionals
who are kind enough to recommend us to their clients).
POOL
Our swimming pool is for the use of all of our guests until 8 p.m.,
after which only the guests in the Pool Pavilion can swim (but quietly).
CHECK-IN TIME is any time after 2 p.m.
CHECK-OUT TIME is by 10:30 a.m.
CANCELLATION POLICY: 72-hour notice required for cancellations;
we keep it short so that our guests are not penalized for illnesses or emergencies,
but we certainly appreciate more notice than that.
For holidays and special-event weekends like Pilgrimage or Christmas In The Country, and for reservations of more than one cottage, we require a one-week cancellation notice.
SMOKING POLICY: We prefer that our guests who are smokers confine their smoking to porches, decks or other comfortable outdoor areas.
CHILDREN AND PETS
We welcome children and pets if they are well enough behaved
not to be destructive and not to disturb the other guests.
And we do not like pets on our furniture.
WEDDINGS
We do host small, quiet weddings on our lovely grounds and gardens
or in the cottages for guests who are staying here.
We permit only about 15 guests at most;
we simply do not have the facilities for more.
Wedding portraits for non-guests with their own photographer: $25.
Weddings on grounds or in cottages for guests: $100.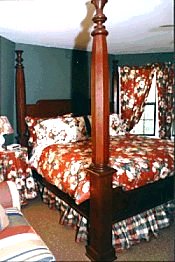 ACTIVITIES
Now a year-round tourist destination area, St. Francisville was the commercial hub for the rich surrounding cotton and indigo plantations of the antebellum period, and today many of the 19th-century structures in the downtown Historic District are filled with quaint little shops and restaurants.
In the countryside, there are a number of restored plantations and gardens open for tours: Rosedown and Audubon State Historic Sites, The Cottage, The Myrtles, Greenwood, Catalpa (by reservation) and Afton Villa Gardens.
There are also wonderful recreational opportunities here in the Tunica Hills: nature walks, birding, biking, hiking, golfing, fishing and hunting. Guided bird walks with nationally recognized wildlife artist Murrell Butler can be arranged. Maps are available upon check-in showing the locations of all of these attractions.
Want less exertion? The local massage therapist makes house calls to our cottages.